The University of Oxford team, comprising Tim Koch, Niamh Herrett, Andrew Dixon and Daniel Schwennicke, emerged victorious at the Eleventh International Roman Law Moot, following the Grand Final held in the Salle Académique at the Université de Liège, at which Prof. Melchior Wathelet, A/Prof. Athina Dimopoulou, Prof. David Ibbetson, Prof. Dr Constantin Willems and Mr Andreas Hermann presided. The Oxford team, coached by Prof. Wolfgang Ernst and graduate student Ms Alexandra Varga, defeated the host team from the Université de Liège to take this year's Palma Victoriae.
The National and Kapodistrian University of Athens edged out the University of Cambridge in the Small Final to secure the Palma Tertia (Third Prize), while Jakob Braun from (Universität Wien) was awarded the Palma Optimi Oratoris (Best Oralist Award), with Honourable Mentions to Konstantin Schöleber (Eberhard Karls Universität Tübingen) and Marina-Maria-Margarita Simopoulou (National and Kapodistrian University of Athens).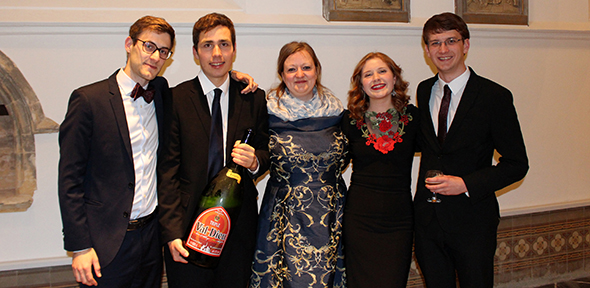 (l to r) Daniel Schwennicke, Tim Koch, Ms Alexandra Varga, Niamh Herrett and Andrew Dixon.